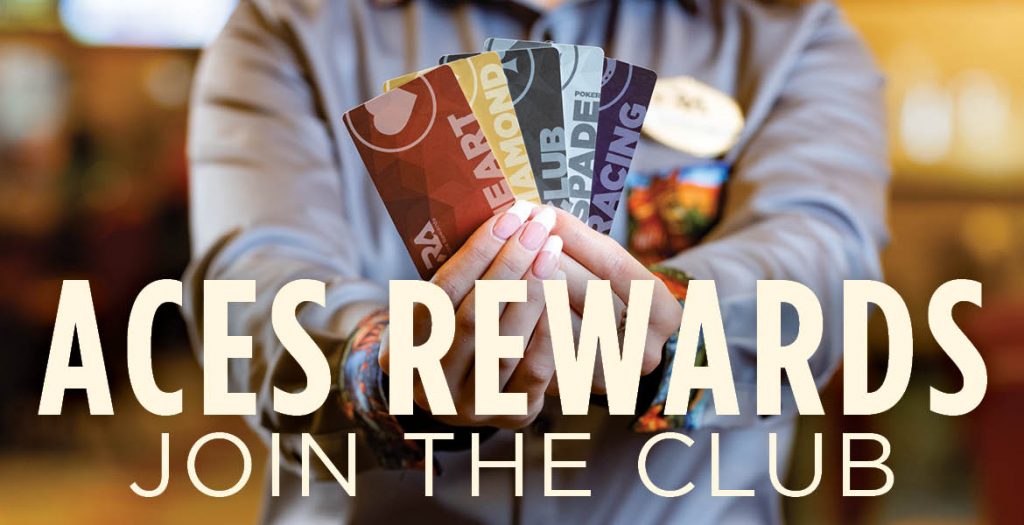 YOU'VE GOT GAME - GET REWARDED FOR IT!
Join the Aces Rewards Players Club for your FREE membership, which is full of valuable perks and benefits. Use your card every time you play your favorite card games like Poker and Blackjack to earn comp points redeemable for cash, chips, food or merchandise. Using your card while wagering on live or simulcast horse races will make you eligible for the rebate program and the racing VIP card.  Stop in at the Aces Rewards front desk 24/7 for your FREE membership!
While you are earning comp points to redeem for cash or chips, you are also earning tier points. Tier points determine your tier level status and have no cash or chip value. Members can earn their way to three higher levels, with each level delivering even richer rewards.
YOU'VE GOT GAME - GET REWARDED FOR IT!
All new members have a chance to win gaming coupons or cash up to $500 just for signing up!
Joining is FREE and the rewards are great!  Stop in at the Aces Rewards front desk to register today!
♥ HEART LEVEL: No minimum points are required to reap the rewards of this tier, and there's more excitement ahead when you play your way up the ladder to one of our VIP tier levels.
♦ DIAMOND LEVEL: Achieve this level by earning a minimum of 500 tier points.
♠ SPADE LEVEL: Earn 350 exclusive poker tier points and you'll achieve this level, which is the highest tier for poker players.
♣ CLUB LEVEL: Earn at least 10,000 tier points and attain this top honor for pit players. This is Running Aces' top tier level, which yields the richest rewards possible.
Ʊ RACING LEVEL: Earn 3,000 exclusive racing tier points
Earn tier points while using your Aces Rewards Card, playing your favorite live poker and pit games or while wagering on horse racing. For every hour of live poker, earn two tier points. Pit games' tier points are calculated by time, average bet and game. Earn one racing tier point for every four dollars wagered on live or simulcast races. Pit and poker tier points are combined to acquire your tier level status. Racing tier points are not combined with pit or poker points. To retain current tier level status, you must maintain the minimum amount of tier points for your level. Every six months, tier level points are recalculated and your status is adjusted to match your tier points level.
January 1 – June 30 & July 1 – December 31
To learn where you are at with your tier points, check with a representative at the Aces Rewards front desk of Jack the Kiosk.

We are working towards a NEW Aces Rewards experience!
To see your current offers and tier points please visit the kiosk or our Aces Rewards team at the front desk. 
Please note that your rewards, tier points, and comps will continue to be tracked as normal, you will just not be able to see them online at this time. We apologize for any inconvenience.
New and want to join the club? Stop in at the Aces Rewards front desk 24/7 for your FREE membership!